Vinyl Flooring in Hillsboro, OR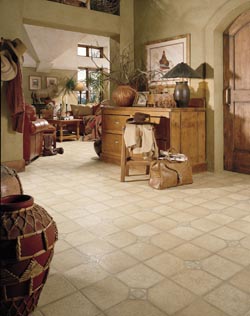 Are you looking to update the floors throughout your house with a new, easy-to-clean option? Need to add something that gives a touch of sophistication to your space without blowing your renovation budget? Our team has just the perfect solution for you: vinyl flooring. Our expansive showroom is stocked with an endless array of luxury vinyl tile floor options—also known as LVT flooring—in many patterns and colors. Whether you want something classic and neutral or unique and modern, you can depend us to help you find what you need to revitalize your home's look and improve its functionality.
Give your home an air of timeless beauty with an even more beautiful price tag. We invite you to visit our showroom to learn more about our low-budget LVT alternative to traditional hardwood or stone floors. Just like natural material options, our vinyl flooring come in many distinct colors, patterns, and grains to suit the aesthetic of any home. You can even mimic the grain pattern and colors of top-selling wood species, such as oak, maple, chestnut, and cherry. In addition, you don't have to worry about the extra maintenance natural wood and stone options require, such as staining and sealing. This is the perfect option for those with busy lives who are rough on their floors, such as families and pet owners.
Considering our impressive selection, you are sure to find an LVT product that is perfect for your décor plans right away. Simply inform our friendly, knowledgeable staff of your desires and we will get to work. If you have magazine clippings or pictures of what you want, we can use them to find an affordable match for your project. LVT is the perfect way to add warmth and texture to your home's appearance, so let us help you coordinate the style that best fits your vision.
Notable Benefits of a Luxury Vinyl Tile Floor
There are many benefits that you will enjoy when you install LVT flooring in any area of your home. In addition to the affordable cost of this flooring option, our customers enjoy:
Low maintenance: Spills, scuff marks, and messes are quickly wiped away for a convenient clean.
Resilient: Manufactured with a protective top coat, our floors are created to withstand trauma without waxing or other treatments.
Adaptable: Available in many colors and patterns, this flooring can be modified for use in any room, from the family den to the kitchen or garage.
Water resistant: Protective layers keep water from seeping through cracks and damaging subflooring, keeping the floor beautiful for years to come.
Vinyl Flooring Installation from Trustworthy Experts
You've reviewed the list of benefits and found a style that perfectly suits your décor and lifestyle. Why not ensure the quality of your project by scheduling vinyl flooring installation from professionals who are trained by the supplier? When you hire untrained individuals to install your flooring, you put your investment on the line. Uneven edges and improper application of even the best materials leads to an unsatisfactory result and can negatively impact the value of your home.
Avoid all this frustration by scheduling your installation service with our company. Our team of experts work with our stock every day and understand how to craft it perfectly fulfil your home improvement goals. Because we are invested in the local community, you can rest assured that we care about your satisfaction and will do everything we can to give you the best outcome on your home improvement project.
Are you interested in discount vinyl flooring? Contact us today to consult with a specialist to learn more about our top-notch products! We proudly serve the communities of Hillsboro, Beaverton, Portland, Forest Grove, and Washington, Oregon.

/contact-us/