Tile Flooring in Hillsboro, OR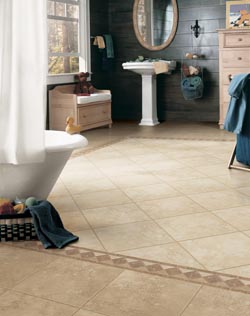 Boost your home's market value to the next level by investing in the timeless addition of stylish and durable tile flooring. Our tile store has the best resources for every home-improvement project, whether you're looking to redecorate a bathroom on a budget or create a dream home that makes a statement about style. Our affiliation with Flooring America gives us the purchasing power to offer an enormous selection of high-quality products at great prices, while continuing to provide the one-on-one service you deserve.
The Benefits of Tile
Experience some of the exceptional qualities that make tile a leading flooring choice. There are virtually endless options in design alone, since it comes in an abundance of different sizes, shapes, colors, and textures. We carry first-rate brands such as Floorcraft and Design Distinctions, as well as top-of-the-line value brands, so there are options for every budget. Our extensive collection includes stunning options in ceramic and porcelain tiles, two remarkably durable and easy-to-clean flooring options.
Ceramic tiles are made from naturally-occurring clay mixed with minerals for color variation, and water. After firing and glazing they're exceptionally scratch-resistant, which makes ceramic tile ideal for areas of high foot traffic. The neutral colors can range from muted to more bold, and make an excellent complementary element of any design scheme. Installation is straightforward, and a professional team can make short work of nearly any size room.
Porcelain tiles are formed by denser materials, and are therefore extremely water resistant. In fact, porcelain tiles can be installed outdoors as well as indoors, and is equally ideal for areas of high moisture like bathrooms or pool decks. These tiles also have uniform color, which means that even if chipping does occur, the tile does not have to be replaced.
Reputable Tile Store
Deciding what's best for your own flooring project can be a bit of a challenge Our dedicated staff knows all the features and benefits of each product, and is happy to guide you every step of the way—from selection to installation. You are sure to find the best tile match for your lifestyle and design aesthetic. We also understand the importance of cost-efficiency. Seasoned associates like ours will listen to your needs, so that their advice not only guides you to the perfect look for your home, but to the ideal price as well. Our tile store is ready to
provide everything you need to complete your renovation and start enjoying your new floors.
Professional Tile Installation
Protect your investment with quality work by our professional tile installation services. Shoddy workmanship can lead to immediate and long-term problems that can cost you time and money you didn't plan to spend. Our certified installers are qualified to match the quality of your materials with their meticulous installations. In fact, we're so confident in our crews that we offer a Lifetime Installation Guarantee. If you ever have issues related to installation, we'll not only fix it, we'll do so on our own dime.
Contact us today for information on our services and current special offers. We proudly serve the communities of Hillsboro, Beaverton, Portland, Forest Grove and Washington, Oregon.