Luxury Vinyl Flooring in Hillsboro, OR
Looking for waterproof flooring for stylish everyday living?
Look no further than luxury vinyl flooring at Floors With Flair! We carry a broad selection of modern LVP, LVT, and sheet vinyl flooring for any and all of your residential and commercial flooring upgrades. As your trusted Hillsboro flooring store, we strive to bring you not only excellent products but also exceptional services. Enjoy quality luxury vinyl flooring installations and friendly, communicative services throughout your entire flooring renovation. Visit our showroom in Hillsboro, OR, to start your luxury vinyl flooring remodel!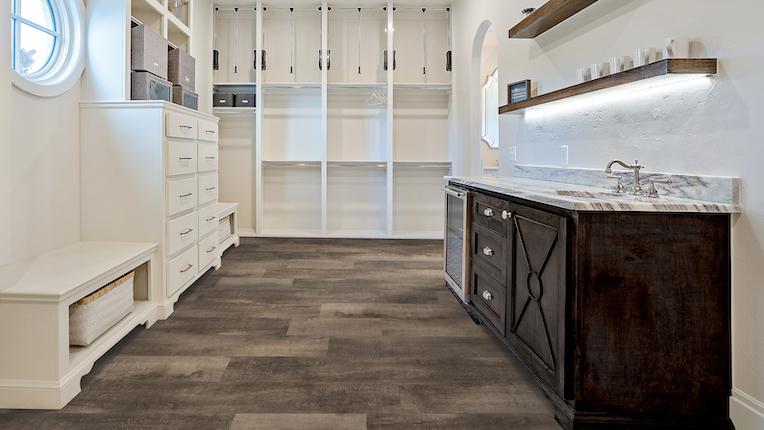 What is Luxury Vinyl Flooring?
Luxury vinyl flooring is an intently-engineered floor composed of four distinct layers. Each layer is crafted to deliver maximum style with stress-free durability:
The Back Layer: A sturdy back provides stability and protects your subfloor.
The Core Layer: The rigid core offers a resilient feeling underfoot that withstands daily use.
The Image Layer: The decorative photo layer closely mimics the authentic look of wood or tile.
The Wear Layer: A clear protective topical shield repels water, spills, and daily wear.
Best Type of Luxury Vinyl Flooring for Your Hillsboro Property
Luxury vinyl floors are now one of the most popular flooring choices on the market due to its many advantages in performance, design, and price. At our local Hillsboro flooring store, you can shop the following types of luxury vinyl floors:
Luxury Vinyl Plank Flooring (LVP)
Best for customers who desire versatile wood looks with easy maintenance and quick installations.
Luxury vinyl planks offer the gorgeous, timeless look of wood for customers who need an easier-to-manage flooring selection. LVP is a more affordable wood alternative, coming in a variety of wood species, plank sizes, tones, graining patterns, colors, and even textures.
Luxury Vinyl Tile Flooring (LVT)
Best for customers who desire stone, ceramic, or porcelain looks at more affordable costs and pet-proof durability.
LVT is a popular choice for bathrooms, kitchens, and any room where you desire the alluring look of tile without the cost and required maintenance. This flooring type is easy to install and offers the same waterproof capabilities of real tile. Our Hillsboro customers especially enjoy how much warmer LVT is than tile during the chillier months.
Sheet Vinyl Flooring
Best for maximum waterproof durability in high moisture spaces and commercial properties.
Sheet vinyl flooring is composed of a single, seamless sheet that's cut to fit the size and shape of a room. This design is the most waterproof of our luxury vinyl flooring selections, making it popular in basements, bathrooms, kitchens, commercial spaces, laundry rooms, mudrooms, and anywhere significant moisture is a concern.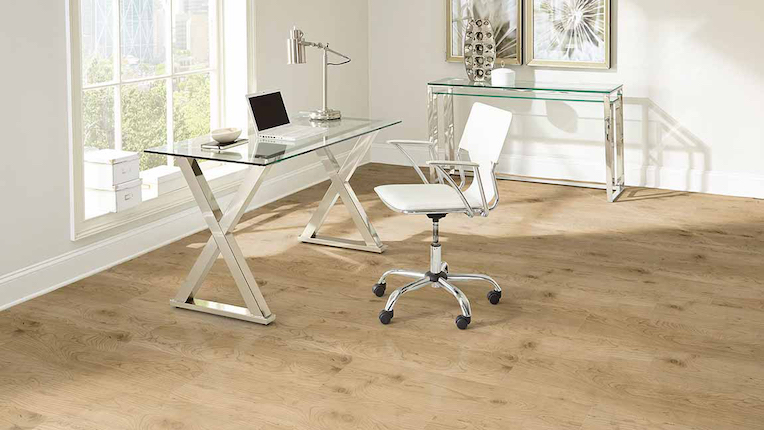 Luxury Vinyl Flooring Selection Made Easy
Whether you are renovating your home, browsing flooring types for a commercial property, or, selecting floors for a new build, we have the products and services for a quick and easy renovation. Shopping for new floors can seem daunting at times, but Floors With Flair is on a mission to make shopping stress-free and fun!
Our knowledgeable flooring experts are here to listen to your lifestyle needs, understand your current space, consider your budget, and discuss your design preferences to offer our best luxury vinyl recommendations. We are also here to answer any and all of your luxury vinyl floor remodeling questions, including:
Which type of luxury vinyl best fits my active lifestyle?
Can I install luxury vinyl floors over existing floors?
Is luxury vinyl flooring waterproof?
Can I install luxury vinyl floors I have pets?
How long does luxury vinyl installation take?
What Are the Advantages of Luxury Vinyl Flooring?
A modern flooring solution, our Hillsboro customers continue to choose luxury vinyl for its many benefits, including the following:
Gorgeous, versatile designs that elevate your interior.
Remarkably simple care and maintenance.
Waterproof durability in high moisture spaces.
Pet-proof and kid-proof resistance to scratches, spills, stains, and daily wear.
Affordable options to meet your budget needs.
Quick and easy installations.
Where Can Luxury Vinyl Floors Be Installed?
Luxury vinyl floors are crafted for simple installations. Sometimes referred to as a "floating floor" luxury vinyl can be installed over clean, level subfloors or already existing flooring. Due to its waterproof composition, you can rest easy installing luxury vinyl in any room of your home, including:
Kitchens
Bathrooms
Mudrooms
Laundry Rooms
Basements
Hallways
Entryways
Bedrooms
Commercial Properties
And More!
Luxury Vinyl Flooring Installations with Expert Oregan Contractors
After you select your luxury vinyl floors, our team of local contractors is here to finish the job with precision. While luxury vinyl deploys a simple click-and-lock or tongue-and-groove installation system, it's important to use proper techniques to ensure longevity. While skilled customers want to DIY luxury vinyl installations, we always recommend a professional installer to avoid costly mistakes and a quicker remodel.
Additionally, you receive peace of mind with our Adore Your Floor Guarantee. This is our unique promise that you will love your new floors. In the unlikely event you experience any issues, we will fix or replace your floors at our own expense. When you're looking for reputable flooring installers in Hillsboro, OR, turn to Floors With Flair.
Shop Luxury Vinyl Flooring at Floors With Flair
Trust our family-owned flooring store to help you achieve your dream home in Hillsboro. We are invested in the lasting success of your luxury vinyl flooring renovation while offering a worry-free experience. We are here for you every step of the way—from selection through installation.
Contact us today to start browsing our luxury vinyl floors! We proudly serve Hillsboro, Oregon, and the surrounding Washington County communities.