Hardwood Flooring in Hillsboro, OR
Seeking the classic charm of naturally durable hardwood floors for your next flooring upgrade?
Look no further than Floors with Flair for all your solid and engineered hardwood flooring needs! We are the Hillsboro area's go-to hardwood flooring store for quality products and impeccable installations that last. More than just offering a variety of hardwood selections, we take the time to understand your project and guide you in design, function, and installation. Visit our hardwood flooring showroom in Hillsboro, Oregon, today to start the journey toward your dream home!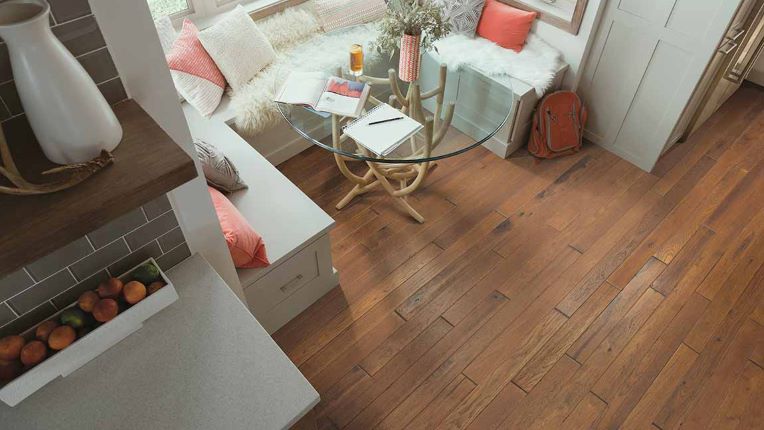 What Type of Hardwood is Best for my Oregon Property?
In Hillsboro, Oregon, you'll discover an abundance of choices when it comes to selecting the perfect hardwood flooring. From the exquisite patterns of natural wood grains and the option of a glossy or matte finish, the design possibilities for hardwood floors are boundless. By choosing hardwood floors, you can effortlessly enhance the sophistication and worth of your home. Explore our selection of wood species, including Cherry, Oak, Pine, Ash, Maple, Hickory, Walnut, and Mahogany, to find the ideal fit for your flooring needs. Our showroom offers this wide range of wood species in two distinct types of flooring planks: engineered and solid hardwood.
Solid Hardwood Flooring
Solid hardwood flooring in Hillsboro, OR is a timeless and robust choice, providing a natural and enduring solution that radiates unmatched beauty. Crafted from a single board of hardwood species, it boasts solidity throughout each strip or plank, allowing for sanding and refinishing when scratches or wear and tear occur. With proper care, these floors can endure for up to a century. Our selection of solid wood flooring in Hillsboro encompasses a wide range of species, plank sizes, cuts, grains, knotting patterns, stains, and finishes, ensuring a classic appeal and high-quality design that will stand the test of time. Whether you opt for trendy hand-scraped hardwood or high-end glossy planks, you can rest assured that your choice can be refinished in the future to rejuvenate its appearance and prolong its lifespan.
Engineered Hardwood Flooring
Engineered hardwood flooring is now in higher demand than ever in Hillsboro, OR. Its unique design, comprising three to four bonded layers of authentic wood and resin, topped with a veneer of real wood, provides the same look and texture as solid planks. Engineered flooring is exceptionally durable, resisting everyday wear and tear, cracking, and warping, making it ideal for spaces like basements, bathrooms, and kitchens. Its multilayered construction ensures resistance to moisture, and it can be installed in any room without reacting to water. For enhanced and long-lasting floors, engineered hardwood flooring is the perfect choice.
What are the Advantages of Hardwood Flooring?
Our Hillsboro customers continue to choose hardwood for its charming appeal and many performance advantages. There's a reason hardwood has been a top flooring choice for centuries, and now, with an engineered option, you can enjoy high-value solid wood with worry-free living. Learn more about the many benefits of choosing hardwood for your Oregan home:
Property Value Enhancement: Elevate your home's value with hardwood floors.
Versatile Style Selection: Choose from a wide range of styles to create your ideal look.
Exceptional Durability in High-Traffic Areas: Enjoy the remarkable strength of hardwood floors in busy areas.
Natural Longevity: With straightforward upkeep, hardwood floors can last a lifetime, preserving their pristine appearance.
Refinishing Opportunities: Maintain the timeless beauty of your solid hardwood floors through refinishing over the years.
Unique Installation Patterns: Personalize your home with custom installation patterns for a distinctive touch.
Moisture-Resistant Options: Opt for water-resistant engineered wood in moisture-prone areas for durability in diverse environments.
Effortless Hardwood Flooring Care: Our selection of hardwood floors is designed to be low maintenance, ensuring their like-new appearance for years with proper care.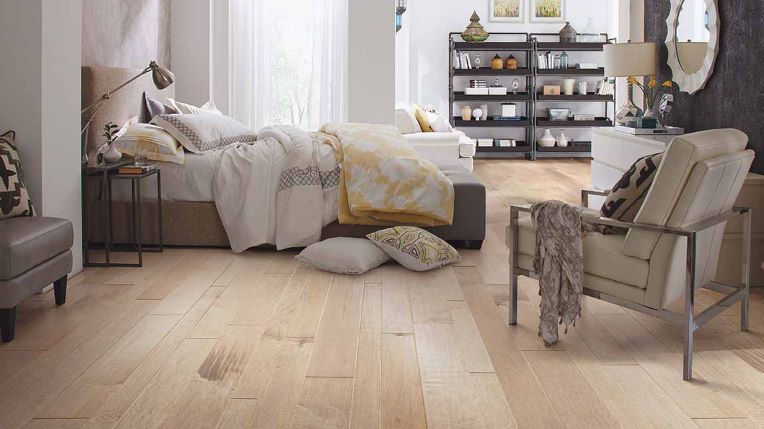 Professional Hardwood Flooring Installations with Hillsboro Installers
At Floors with Flair in Hillsboro, OR, your success is our priority. That's why we finish the hardwood flooring job with a professional installation. Our experienced Hillsboro installation contractors in are equipped with the best tools and industry-leading skills to provide seamless hardwood flooring installation. We consider factors like board spacing and plank placement for maximum function and beautiful designs. With our team, every step is efficient, from acclimation to hand-selecting each board and cleaning up when we're done.
Our goal is to ensure your complete satisfaction, offering unparalleled service, fail-proof installation, and unbeatable prices. With our skilled technicians, you'll get the most value for your hardwood flooring investment, regardless of the project's size and scope. Further, with our Adore Your Floor Guarantee, you have the final say; if you're not satisfied with your new floors within 30 days of installation, we'll replace them at no cost with a similar product. Trust our certified contractors to handle your hardwood flooring renovation from start to finish!
Contact us today to start your hardwood flooring renovation! We proudly serve Hillsboro, Or, as well as the surrounding Washington County communities.