Ceramic Tile Flooring in Hillsboro, OR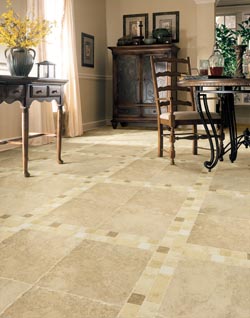 You want a whole new look for your home. Remodeling your house with ceramic tile flooring is one of the most cost-effective options. Installing a ceramic tile floor breathes new life and excitement into rooms that you and your family use each and every day.
Come into our flooring showroom to see all that we have to offer. Our stunning collections offer something to fit every aesthetic taste and any size budget. Let our sales and design professionals show you tiles in a variety of colors, shapes, and sizes. Find yourself filled with inspiration for your home makeover. Plus, once we help you find the perfect tile, we can schedule you for a professional ceramic tile flooring installation.
Ceramic tile is a flooring favorite and has been for hundreds of years. This tile is made from clay that is superheated in a kiln to give it that characteristic elegance for which it is known. Your addition of a tile floor made of ceramic gives any room or area a significant look and a refined appeal that complements every decorating style.
Our flooring experts possess comprehensive product knowledge, as well as design training. They are ready to help you match colors to your home décor. Choose ceramic tiles in squares of the same size and color to provide a subtle backdrop for gorgeous home furnishings. Or, ask us to help you with a specific design, such as a border, pattern, or a specific focal point.
Ceramic Tile Flooring Installation for Long-Lasting Beauty
You have the tile and design. All you need for that home remodel is installation. We have experienced flooring technicians on staff who know exactly how to lay those squares so they show to best advantage and are protected from damage. For long-lasting flooring, we recommend professional ceramic tile flooring installation.
Our installers come to your home with all the tools, equipment, and tile to do the job right. After removing your old flooring, they clean and level the surface, then trowel on mortar. Now, it is time to place the tiles carefully so they are secure and with an eye to pattern. They separate each tile with a line of grout so they do not touch and crack.
With our professionals doing the work, you can rest assured your ceramic tile floor looks exactly how you expect it to and lasts for many years to come. In fact, we even offer a lifetime guarantee on flooring installation. If you have installation-related problems with your flooring, just let us know and we fix it for free.
What Are the Benefits of Ceramic Tile Floors?
The longer you have your ceramic tile flooring, the more you love it. This beautiful flooring is highly practical. It resists water and scratches and is so easy to clean. Tile is also a hypoallergenic flooring type, which means it leaves no place for allergens, such as dust and bacteria to hide. You just sweep them up in your routine cleaning. Everyone breathes easier with ceramic tile underfoot.
Discover ceramic tile flooring in a lovely assortment of colors and brands. These include soft whites, subtle grays, rosy pinks, and earthy browns. The national name brands we carry include Star Values™ and Floorcraft™. We provide our customers with brand-name products because they offer style, performance, and value.
Contact us today to help you select elegant ceramic tile floors for your home. We proudly serve the communities of Hillsboro, Beaverton, Portland, Forest Grove and Washington, Oregon.