What is Travertine Tile?
If you haven't heard of travertine tile before, you're missing out on one of the market's hottest and most elegant interior design trends! Don't worry, though! We'll have you caught up in no time. Keep reading to learn everything you need to know about travertine tile and stone flooring, including examples of what travertine tile looks like, some basic travertine pros and cons to consider, and how to clean travertine flooring effectively. If you're ready for a fresh home makeover, travertine tile flooring can give your space a dazzling new look!
You might be asking yourself, what is travertine tile? Good question! Travertine is a natural type of stone, like the granite in your kitchen or the marble in your bathroom. Travertine is a sedimentary stone type of limestone made from mineral deposits from natural springs. This gives the travertine a distinctive and striking appearance, seen in its unique swirls.
Types of Travertine
Travertine is a very durable stone and it's versatile, which is why it's commonly used for both flooring and backsplashes. It is available in four styles and textures:
Brushed Travertine: Brushed travertine has a non-reflective, matte finish that offers a rustic look. This look is created by using a wire brush treatment.

Honed Travertine: Honed travertine is halfway between matte and glossy. This creates a balanced, subtly polished look. The honed texture is created by buffing the unfinished side of the travertine.

Polished Travertine: Shiny and glossy, polished travertine is an eye-catching, sophisticated style. It offers a luxurious, high-end look.

Tumbled Travertine: Tumbled travertine tile offers an aged appearance made by tumbling the stones to create rough edges that are honed slightly to smooth any rough edges out.
With this wide range of textural styles, a warm buttery color palette ranging from earth tone colors to beige hues, and a durable material that can withstand even the heaviest of wear-and-tear, travertine makes a timeless yet trendy addition to any home. Continue reading to learn more about these parks - plus a few travertine drawbacks - in more detail.
The Pros & Cons of Travertine Tile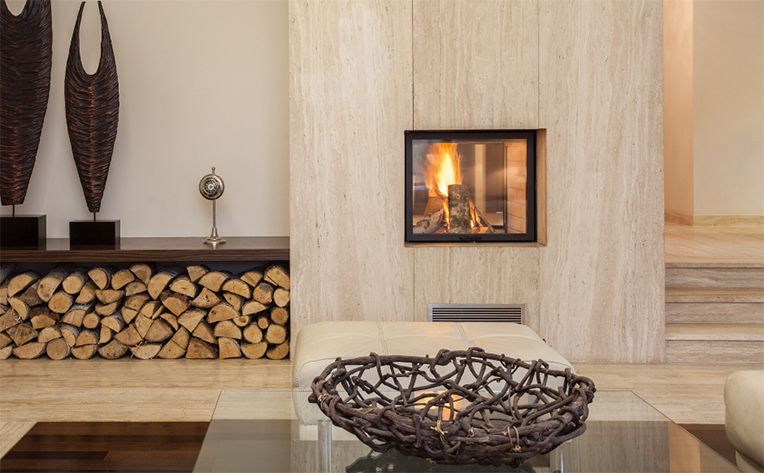 Like any other type of flooring, travertine tile possesses a blend of qualities that make it ideal for some settings, but potentially unsuitable for others. If you've been thinking about upgrading your floors, here are some pros and cons to consider when deciding whether or not travertine is a good fit for your home:
The Pros of Travertine
Beauty: It's impossible to deny travertine floors' lavish, classical beauty.

Durability: With proper treatment and maintenance, travertine protects against scratching and cracking, making it perfect for homes with pets and children.

Value: Travertine flooring is a budget-friendly option to other high-end stones such as marble or granite. Installing travertine floors can also increase the value of your home.

Non-Slip: Travertine flooring is naturally non-slippery, which makes it ideal for moisture-prone spaces such as bathrooms and kitchens.

Versatility: Travertine tiles are easily cut and shaped, which allows you to custom design how you would like your tile laid out and allow the tiles to fit into smaller spaces.
The Cons of Travertine
Maintenance: Travertine tile flooring must be sealed during installation, then re-sealed every three to five years to keep it moisture-resistant and stain-resistant. It's best to leave this process up to a flooring expert for the best results.

Softness: Since travertine is a type of stone, it feels firmer than other flooring materials. It is also heavier than other types of natural stones.

Temperature: Like other natural stone tiles, travertine tends to stay cool. While this is ideal for those who live in warmer climates, this might be a big drawback for those in cooler weather.

Sensitivity: While travertine is durable, it is very sensitive to acidic substances like vinegar, coffee, juice, and alcohol. If spilled, acidic liquids are more likely to leave a stain since they react with travertine's calcium carbonate.
If coziness, warmth, and ease of maintenance are major priorities for you, travertine may not be the best flooring material to use in your flooring redesign project. On the other hand, travertine could be the perfect option if you like the sound of a trend-setting, damage-resistant material that will elevate both the beauty and financial worth of your home. We're here to help you make the right decision based on your style preferences, lifestyle needs, and renovation budget.
How To Clean Travertine Tile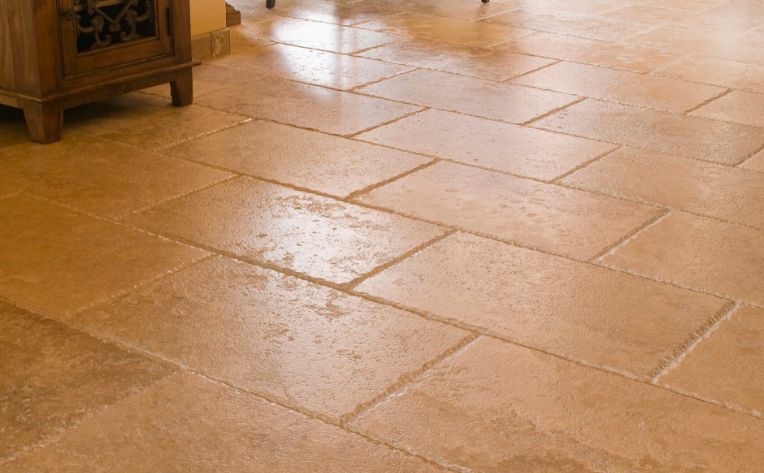 Like other types of natural stone flooring, travertine flooring contains tiny, porous openings. Even though these openings are nearly invisible to the naked eye, they are still large enough to absorb moisture and admit harmful debris particles.
Over time, this can damage travertine floors, making them more susceptible to premature discoloration, chipping, and cracking. To reduce the risk of damage, treating travertine with sealers when the floors are installed properly is important. Sealants must be reapplied every three to five years to ensure lasting protection against damage.
Once the sealant has been applied, cleaning and maintenance are fairly straightforward. To get the best results from travertine tile cleaning, simply wipe down or mop the tiles with a gentle, non-staining, non-abrasive cleaning solution recommended by the manufacturer. When in doubt, always consult the original manufacturer for product-specific care recommendations about what cleaning solutions you can use on your travertine flooring.
Find Travertine Tile Flooring & Backsplash Tile for Kitchens, Bathrooms, & More
Want to learn more about travertine flooring or backsplash tile for your home or apartment? Find gorgeous examples using My Design Finder, start a chat with one of our friendly team members, or visit one of our 500+ retail locations to see our stunning travertine floors for you! You'll find the perfect fit for any room in your home or apartment for backsplash tile and travertine flooring for kitchens, bathrooms, foyers, and more. Contact us online to get started, or find a Flooring America store in your state today!